Booth #7730
TeleManager

TeleManager Technologies, Inc. is the industry's only IVR Company with several completely different IVR products making it possible for independent, chain or health system pharmacies to select the IVR system that best meet their practice and budgetary needs. And, our more than 10 years experience in working with all types of pharmacies has taught us how to make the installation and training easy for all involved.

Our list of products includes:

TeleManager™ Hosted IVR Service is a patented outsourced (ASP Model) IVR service that enables a pharmacy to offer their patients with a toll free automated refill "hot line" they can call anytime. The service also accepts all phone calls placed to the normal pharmacy phone number but that are not answered for any reason; such as all lines are busy or it is after hours. All patient information is captured at the TeleManager telecommunications operations center and faxed or emailed to the pharmacy in an orderly manner for processing. This unique service is the most affordable way to provide IVR.

TeleManager™ On-Demand IVR System builds on the same patented outsourced (ASP Model) functionality as the hosted service (above) but adds the functionality of interfacing with your pharmacy management system so that refill request are seamlessly routed over a secure internet connection directly into your pharmacy system's refill queue. Installation does not require the purchase or installation of any hardware or cabling making the On-Demand System the easiest and most affordable ways to bring the benefits of fully integrated IVR to your pharmacy.

Refill TeleManager™ In-Store IVR System is the most versatile, cost-effective and easy-to-use traditional in-store IVR system in the industry. Currently used in literally thousands of pharmacies in all practice settings this full featured in-store system interfaces with you phone and pharmacy management system to allow you to simplify pharmacy operations and provide even more personalized customer service.

TeleManager Refill NetManager™ is an interactive on-line prescription service that enables your patients to request refills over the internet at any time that is convenient for them. NetManager can be interfaced with your pharmacy management system so that refills are validated and posted into your pharmacy management system's refill queue in real time.

OverflowManager™ is TeleManager's patented IVR service that provides over capacity relief when all phone line are in use. This truly unique service means your patients and prescribers will never have to listen to a busy signal and could eliminate the need for pharmacies to add expensive additional phone lines. All prescription orders are captured in TeleManager's telecommunications operations center and sent t directly into your pharmacy management system.

TeleManagerCentral™ IVR System is an advanced Voice over IP capable solution that allows chain and multiple-location pharmacies to benefit from their economies of scale. This system resides at a central site and interfaces with all your telecommunications, pharmacy management system, workflow or central fill software to provide genuine benefits for patients, employees and prescribers.
Telemanager, Telemanager Technologies, IVR, Software, IVR Solutions, Pharmacy Productivity, Software

Booth #7735
Ateb's Pharmacy-Based Patient Care Solutions

As the industry's leading provider of Pharmacy-Based Patient Care Solutions, Ateb is the bridge that connects patients, pharmacies, and payers to drive healthy patient outcomes while effectively managing costs.

Using Ateb's pharmacy-based patient care solutions, pharmacies are transforming their practices to an Appointment Based Model (ABM), moving the focus to proactive patient-centered interventions.

PHARMACIES

Time My Meds® - Integrated Medication Synchronization
Utilizing Time My Meds, pharmacies can transition to the Appointment Based Model (ABM) which enables pharmacies to increase patient engagement, improve adherence rates, and streamline pharmacy operations.

Benefits

Grow Prescription Volume
Improve Adherence (PDC Scores)
Drive Patient Engagement
Increase Revenue through Paid Service Offerings

Patient Communication Solutions
Ateb coordinates inbound and outbound automated messages to patients which enables pharmacies to increase script growth, improve patient adherence, drive patient engagement, and deliver enhanced patient care.

Pharmacy Line® (IVR) Interactive Voice Response Solution
Refill Reminders: Outbound and Detect-Rx® (inbound)
Outbound Notifications
OnTheGoRx® mobile app

Pharmacy Workflow Solutions
If your pharmacy system does not have the ability to conduct accuracy checks when filling prescriptions, provide prescription status management, support online refills, or collect electronic signatures, then learn more about Ateb's Pharmacy Workflow Solutions.

Pharmacy Line® (IVR) Interactive Voice Response Solution
Bin Management
NDC Accuracy Check
SignatureLine
Web Refill

Chronic Care Management Programs
Ateb's Chronic Care Management Programs are disease management and healthy living programs designed to include high-touch, longitudinal management through patient interventions, with emphasis on closure of treatment gaps, in addition to medication and health condition education.

Benefits

Achieve and maintain Medicare 5-Star performance
IdentifyPatients Best Suited for Enrollment
Follow Evidence-based Guidelines and Protocols
Provide Point-of-Care Testing, as appropriate
Document and Track Interventions
Improve Overall Patient Health outcomes

HEALTH PLANS

Health Plan Solutions
Ateb partners with Health Plans to proactively intervene with members using proven solutions. By improving your members' PDC adherence scores and individual health outcomes, we reduce your plan's overall healthcare costs.

Benefits

Increase Star Medication Adherence Ratings
Improve HEDIS Scores / Close Gaps in Care
Reduce ER visits and Hospital Readmissions
Reduce Overall Health Plan Costs

HOSPITALS

Transitional Care Solution
Ateb's Transitional Care Solution helps prevent medication errors that frequently occur during the transition from one care setting to another, such as being discharged from a hospital and returning home or being admitted to a long-term care facility.

Benefits

Reduces Readmissions
Coordinates Patient Care
Reconciles Medications
Offers High-Touch Transitions
Ateb IVR, Pharmacy Interactive Voice Response, streamline and automate, IVR systems that automate calls, IVR systems by Ateb and IVR Pharmacy Interactive Voice Response, streamline and automate, IVR systems that automate calls, IVR systems by Ateb...
Booth #7729
QS/1

QS/1 provides software products, services and support to a variety of healthcare providers including community pharmacies, chain pharmacies, long-term care facilities, institutions, home medical equipment providers and point-of-sale operations.

NRx for Retail/Community Pharmacy
Process new prescriptions and fill refills quick and easy. Integrated services and systems enhance workflow and patient safety in independent pharmacies while providing comprehensive management tools necessary for better profitability.

Multi-Site Management (MSM) & NRx for Chain Pharmacy
Provides multi-site chain store management system making day-to-day pharmacy operations easier and more efficient with centralized data control allowing record sharing across the network and between stores.

PrimeCare for Institutional Pharmacy & Long Term Care Facilities (LTC)
Specifically meets the everyday challenges of institutional and LTC pharmacies with the ability to customize software solutions to fit unique organization needs.

SystemOne for HME Business
Manage any HME business operation, large or small. Manage inventory and electronically bill the DMERC, State Medicaids and other third party payers.

Point-of-Sale
Boost pharmacy profitability with improved inventory management features and electronic price updates.

Interactive Voice Response (IVR)
Provide customer convenience with easy refills and 24/7 pharmacy access. Outbound IVR provides automatic refill and pick-up reminders, and the system integrates seamlessly with QS/1's Pharmacy Management Systems - SharpRx, NRx, PrimeCare for LTC and SystemOne for HME/DME.

Interfaces
Enhance operational efficiency with interfaces to many time and money-saving technologies made available for integration with QS/1 software.

QDM Automated Pill Dispensing System
Enhance pharmacy productivity and efficiency while improving patient safety through automated pill dispensing.
IVR retail independent chain hospital communication automated pharmacy refill interactive voice response internet telephone authorization request fax IVR prescription faxing electronic prescription submission e-prescribing productivity enhancement voicemail message electronic call management prescription processing automatic queue QS/1 auto refill phone in compliance reminders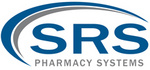 Booth #7732
SRS Pharmacy Systems

Total Pharmacy Integration... One Vendor!

Over 20 Years of Supporting Community Pharmacy
Since 1989, SRS Pharmacy Systems has focused on building pharmacy management software that helps community pharmacies operate more efficiently and accurately, keeping processes consistent, inventories low and profitability high.

Total Pharmacy Integration
The key to maximizing profittability is total integration from top to bottom. All SRS modules are directly integrated with our core pharmacy management software, PKonRx. Modules include:

PKonRx
NPI and DEA Number Validation
Rx Scanning & RPh Verification
POS w/eSignature
Integrated Credit, Debit & FSA Card Processing
Drive-Thru Wireless
LTC/MAR
IVR & PhoneManager
Smartphone & Web Rells
Text Message Alerts

RxTwin: Integrated Onsite Backup Server

Proactive network, system and component replacement
SQL database for reliability and speed
Web access from each station
Fast and stable C++ programming

One System, One Vendor, One Call!
Pharmacies gain because SRS doesn't outsource its technology. SRS directly develops, supports and services all core system, software and hardware. SRS components are software and hardware pre-configured.SRS automatically maintains software drivers, system updates, security functions, and PBM requirements. Additionally, SRS pharmacies have a SINGLE SOURCE for all pharmacy support needs, allowing SRS pharmacies to focus on customer care and let SRS focus on computer system care!
IVR retail independent chain hospital communication automated pharmacy refill interactive voice response internet telephone authorization request fax IVR prescription faxing electronic prescription submission e-prescribing productivity enhancement voicemail message electronic call management prescription processing automatic queue SRS auto refill phone in compliance reminders