Our freezers and refrigerators are engineered from the inside out to create, maintain and restore precise temperatures for safe vaccine storage.

Our benchtop, undercounter, upright single door, double door and combo models meet CDC vaccine best practices.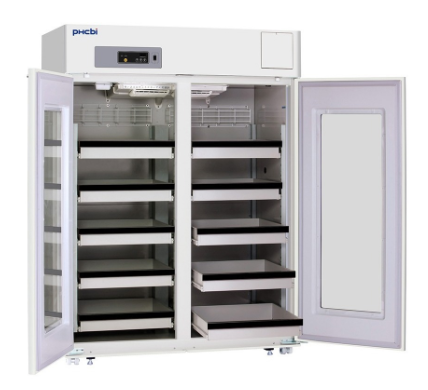 Vaccine refrigerators incorporate specifically designed refrigeration systems, protecting vaccines from freezing.
Microprocessor controls assure precise temperature throughout the chamber.
Easy to view control panel displays with alarm systems that have access to remote monitoring.
Forced air systems provide close top-to-bottom uniformity at all shelf and drawer levels.
Reserve cooling for safe and rapid temperature recovery following door openings.
Tolerance for high ambient temperature with high performance refrigeration system and superior CFC free insulation.
About PHC Corporation of North America
PHC Corporation of North America is a subsidiary of PHC Holdings Corporation, Tokyo, Japan, a global leader in development, design and manufacturing of laboratory equipment for biopharmaceutical, life sciences, academic, healthcare and government markets.
For information call PHC Corporation of North America at 800-858-8442, visit www.phchd.com/us/biomedical or email info@us.phchd.com.

---