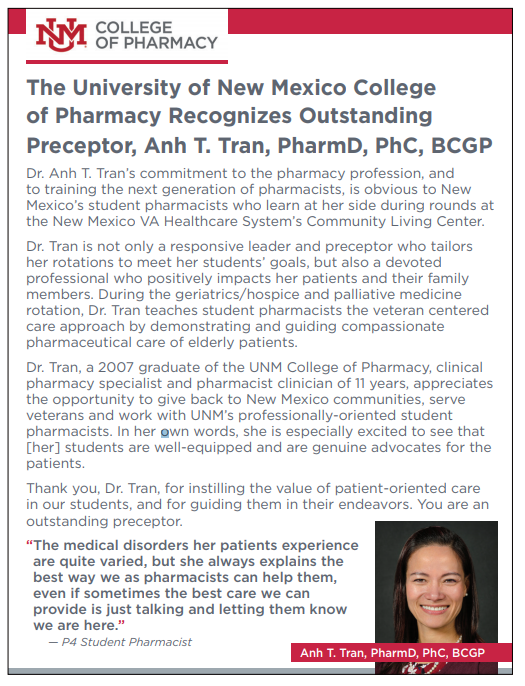 Dr. Anh T. Tran's commitment to the pharmacy profession, and to training the next generation of pharmacists, is obvious to New Mexico's student pharmacists who learn at her side during rounds at the New Mexico VA Healthcare System's Community Living Center.
Dr. Tran is not only a responsive leader and preceptor who tailors her rotations to meet her students' goals, but also a devoted professional who positively impacts her patients and their family members. During the geriatrics/hospice and palliative medicine rotation, Dr. Tran teaches student pharmacists the veteran centered care approach by demonstrating and guiding compassionate pharmaceutical care of elderly patients.
Dr. Tran, a 2007 graduate of the UNM College of Pharmacy, clinical pharmacy specialist and pharmacist clinician of 11 years, appreciates the opportunity to give back to New Mexico communities, serve veterans and work with UNM's professionally-oriented student pharmacists. In her own words, she is especially excited to see that [her] students are well-equipped and are genuine advocates for the patients.
Thank you, Dr. Tran, for instilling the value of patient-oriented care in our students, and for guiding them in their endeavors. You are an outstanding preceptor.
"The medical disorders her patients experience are quite varied, but she always explains the best way we as pharmacists can help them, even if sometimes the best care we can provide is just talking and letting them know we are here." — P4 Student Pharmacist

---