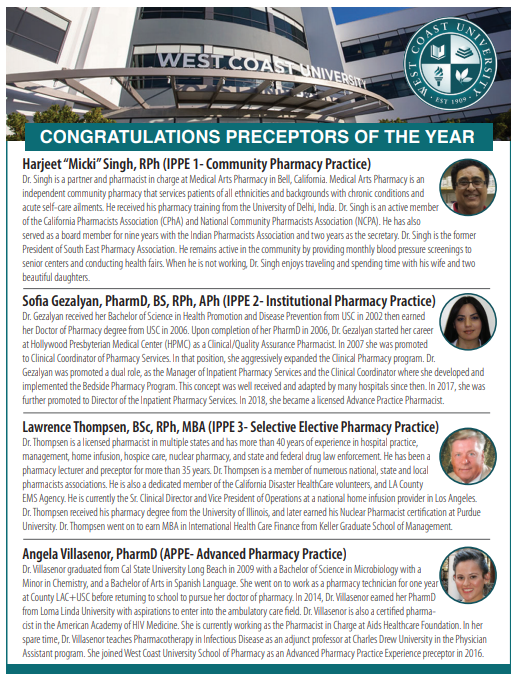 Harjeet "Micki" Singh, RPh (IPPE 1- Community Pharmacy Practice) Dr. Singh is a partner and pharmacist in charge at Medical Arts Pharmacy in Bell, California. Medical Arts Pharmacy is an independent community pharmacy that services patients of all ethnicities and backgrounds with chronic conditions and acute self-care ailments. He received his pharmacy training from the University of Delhi, India. Dr. Singh is an active member of the California Pharmacists Association (CPhA) and National Community Pharmacists Association (NCPA). He has also served as a board member for nine years with the Indian Pharmacists Association and two years as the secretary. Dr. Singh is the former President of South East Pharmacy Association. He remains active in the community by providing monthly blood pressure screenings to senior centers and conducting health fairs. When he is not working, Dr. Singh enjoys traveling and spending time with his wife and two beautiful daughters.
Sofia Gezalyan, PharmD, BS, RPh, APh (IPPE 2- Institutional Pharmacy Practice) Dr. Gezalyan received her Bachelor of Science in Health Promotion and Disease Prevention from USC in 2002 then earned her Doctor of Pharmacy degree from USC in 2006. Upon completion of her PharmD in 2006, Dr. Gezalyan started her career at Hollywood Presbyterian Medical Center (HPMC) as a Clinical/Quality Assurance Pharmacist. In 2007 she was promoted to Clinical Coordinator of Pharmacy Services. In that position, she aggressively expanded the Clinical Pharmacy program. Dr. Gezalyan was promoted a dual role, as the Manager of Inpatient Pharmacy Services and the Clinical Coordinator where she developed and implemented the Bedside Pharmacy Program. This concept was well received and adapted by many hospitals since then. In 2017, she was further promoted to Director of the Inpatient Pharmacy Services. In 2018, she became a licensed Advance Practice Pharmacist.
Lawrence Thompsen, BSc, RPh, MBA (IPPE 3- Selective Elective Pharmacy Practice) Dr. Thompsen is a licensed pharmacist in multiple states and has more than 40 years of experience in hospital practice, management, home infusion, hospice care, nuclear pharmacy, and state and federal drug law enforcement. He has been a pharmacy lecturer and preceptor for more than 35 years. Dr. Thompsen is a member of numerous national, state and local pharmacists associations. He is also a dedicated member of the California Disaster HealthCare volunteers, and LA County EMS Agency. He is currently the Sr. Clinical Director and Vice President of Operations at a national home infusion provider in Los Angeles. Dr. Thompsen received his pharmacy degree from the University of Illinois, and later earned his Nuclear Pharmacist certification at Purdue University. Dr. Thompsen went on to earn MBA in International Health Care Finance from Keller Graduate School of Management.
Angela Villasenor, PharmD (APPE- Advanced Pharmacy Practice) Dr. Villasenor graduated from Cal State University Long Beach in 2009 with a Bachelor of Science in Microbiology with a Minor in Chemistry, and a Bachelor of Arts in Spanish Language. She went on to work as a pharmacy technician for one year at County LAC+USC before returning to school to pursue her doctor of pharmacy. In 2014, Dr. Villasenor earned her PharmD from Loma Linda University with aspirations to enter into the ambulatory care field. Dr. Villasenor is also a certified pharmacist in the American Academy of HIV Medicine. She is currently working as the Pharmacist in Charge at Aids Healthcare Foundation. In her spare time, Dr. Villasenor teaches Pharmacotherapy in Infectious Disease as an adjunct professor at Charles Drew University in the Physician Assistant program. She joined West Coast University School of Pharmacy as an Advanced Pharmacy Practice Experience preceptor in 2016.
---