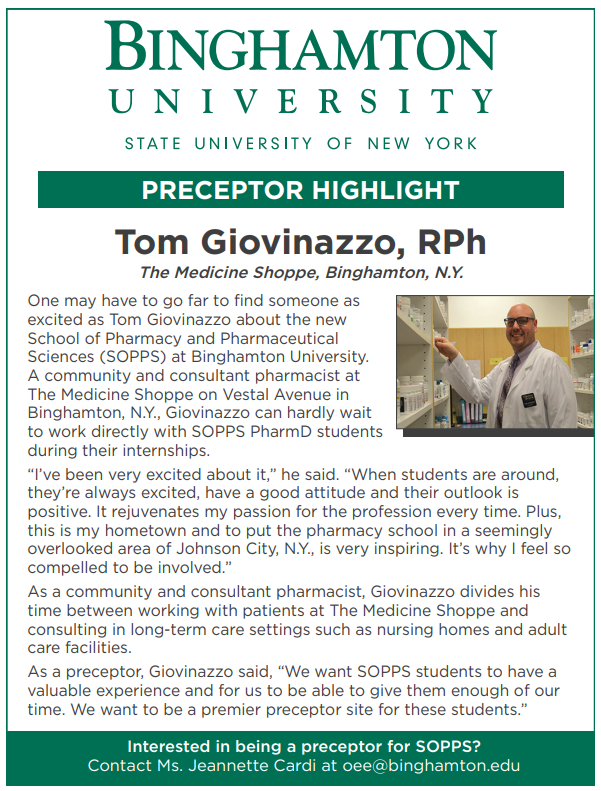 One may have to go far to find someone as excited as Tom Giovinazzo about the new School of Pharmacy and Pharmaceutical Sciences (SOPPS) at Binghamton University. A community and consultant pharmacist at The Medicine Shoppe on Vestal Avenue in Binghamton, N.Y., Giovinazzo can hardly wait to work directly with SOPPS PharmD students during their internships.
"I've been very excited about it," he said. "When students are around, they're always excited, have a good attitude and their outlook is positive. It rejuvenates my passion for the profession every time. Plus, this is my hometown and to put the pharmacy school in a seemingly overlooked area of Johnson City, N.Y., is very inspiring. It's why I feel so compelled to be involved."
As a community and consultant pharmacist, Giovinazzo divides his time between working with patients at The Medicine Shoppe and consulting in long-term care settings such as nursing homes and adult care facilities.
As a preceptor, Giovinazzo said, "We want SOPPS students to have a valuable experience and for us to be able to give them enough of our time. We want to be a premier preceptor site for these students."

---