Booth #11526
TeleCameron®

The Next Wave of Healthcare Technology

Bringing qualified, experienced pharmacists to your patients and customers doesn't have to be a time- and labor-intensive process. Cameron & Company, Inc.® is pleased to announce TeleCameron®, their telepharmacy service.

A virtual pharmacist solution, TeleCameron®, offers an online connection to a qualified pharmacist, whenever you need one. Via a secured network, your virtual pharmacist will connect directly with your team to review, accept and fill prescriptions. At any time, a nurse or nationally certified pharmacy technician can connect to the virtual pharmacist.

More than 4,000 hospitals are lacking 24-hour pharmacist coverage. With TeleCameron®, all hospitals can have full coverage, 24/7. Cameron and Company, Inc.® will provide you with a clinical pharmacist who, due to travel or other restrictions, cannot work at your location - but can provide the expertise and service you need!

Our Mission

At TeleCameron® our mission is to enable healthcare facilities to improve patient care. We do this by providing on-site pharmacists and/or virtual pharmacists that allow hospitals to deliver pharmacy services, 24/7/365.

There are more than 4,000 hospitals in the USA that do not have 24/7 pharmacy services in their pharmacy departments. By augmenting existing pharmacy staff, we help to ensure patient well-being and safe delivery of medication, all day, every day.

And in the process, we create jobs for pharmacists!

Expanding Your Pharmacy Capabilities

In today's economy, increasing productivity and decreasing cost are constant demands. But in a healthcare role, how can you decrease costs while maintaining patient care?

Take the Next Step
To learn more about how TeleCameron® can impact your pharmacy,
click on the link below to visit our website today.
cameron and company and telepharmacy. telepharmacy with hospital recruiters remote order entry. cameron and company decrease costs, constant demands patient care improving patient care. on-site pharmacists and/or virtual pharmacists pharmacy services 24/7/365. www.telecameron.com virtual pharmacist solution

Booth #11515
Career Opportunities!

RXinsider's Virtual Job EXPOs are the perfect online destination for healthcare practitioners seeking to research and connect with leading healthcare employers throughout every practice setting. Hundreds of healthcare employers, thousands of jobs, all in one convenient location!

RXinsider currently offers Virtual Job EXPOS for the following healthcare disciplines:

- Pharmacy

- Nursing

- HIT/HIM/Informatics

- Therapy/Allied

- Healthcare

Advertising Opportunities:
Attracting more than one million visitors annually, RXinsider's Virtual Job EXPOs are an excellent venue for employers to post career opportunities, brand their organizations, and connect with healthcare professionals throughout multiple disciplines.

Our unique Job EXPO format allows employers to not only address acute needs, but develop a proactive strategy for future needs. Please contact an RXinsider Sales Representative for advertising information: http://rxinsider.com/advertise.htm
Long term care pharmacy Nuclear / Radiopharmacy Long Term Care / LTC Clinical Hospital / Health System Home Infusion Temporary and Per-Diem Staffing Pharmacy Benefit Management / PBM Managed Care Telepharmacy Medical Science Liaison / MSL Specialty Pharmacy Management & Consulting Independent Community / Retail Chain Community / Retail Mail Order

Booth #11525
Remote Order Entry Service

Cardinal Health Remote Order Entry Service helps hospitals achieve continuous pharmacy coverage and improve medication safety for patients through an affordable, practical alternative. Gain piece of mind with support during high volume times, employee vacations, weather-related emergencies, clinical project engagements or staffing the third shift.

Seamless integration of Remote Order Entry Service into hospital facilities allows for redeployment of pharmacists to clinical initiatives, and away from order entry tasks. In 2003, we pioneered remote pharmacy services and co-authored the American Society of Health-System Pharmacists' (ASHP) Guidelines on Remote Medication Order Processing. Today we continue to lead the industry, with services including video verification, tech supervision and medication reconciliation. Our highly trained, hospital pharmacists are fully licensed and state board approved, servicing clients from one of our eight pharmacy service centers across the United States.

In addition to saving hospitals 20-30 percent in staffing costs, Cardinal Health Remote Order Entry Service also controls costs associated with avoided medication errors and clinical interventions performed by our remote pharmacists. Our service guarantees coverage during service hours and is never interrupted by holidays, weather, sick days, or vacations.

We invite you to visit our website to take a virtual tour of one of our Pharmacy Service Centers

Booth #11516
RemoteSolutions

We provide the solutions that maintain continuity of pharmacy services and patient safety after department hours, during periods of peak demand or in other times of need.

Our Process:

01: CONNECT
RemoteSolutions pharmacists are in a secure, licensed pharmacy, connected via HIPAA compliant links directly to your hospital pharmacy system. No interfaces needed.

02: RECEIVE & REVIEW
A licensed Pharmacist receives and reviews the order, intervenes where appropriate, and communicates with the medical staff before the order is processed to ensure high quality medication use.

03: PROCESS, ENTER & VERIFY
RemoteSolutions' highly trained pharmacists process the incoming orders and enter/verify directly in the hospital pharmacy's information system.

The RemoteSolution:

Fully-licensed pharmacy staff
Strict compliance with regulatory standards
Screening for potential medication errors; maintaining your level of quality and patient safety
Available 24-hours to meet all of your clinical and medication needs
All orders are entered by fully-licensed pharmacists
Improving patient safety through decreased nursing over-rides resulting in improved regulatory and compliance safety
Decreasing workload for on-site staff enabling them to perform additional clinical responsibilities
An affordable and reliable alternative to provide 24-hour pharmacy services to your hospital and patients
Remote Solutions or rxremote solutions or cps or compreshensive pharmacy solutions on telepharmacy remote order entry. efficient off-site medication order verification and processing services with 24/7 pharmacy services and Fully-licensed pharmacy staff . 24- hour pharmacy services to your hospital and patients with remote solutions and remote order review on telepharmacy.
Booth #11527
TelNet-Rx Remote Services
Remote Solution of Choice

TelNet-Rx Remote Solutions is a pharmacy remote medication order verification service that provides a cost-effective option to facilities that are unable to operate a 24-hour pharmacy. The current Joint Commission standard as well as CMS requires "All medication orders must be reviewed for appropriateness by a Pharmacist prior to administration to the patient." In addition, some Pharmacy systems require proactive medication verification by a Pharmacist in order to meet Meaningful Use requirements.

Due to these requirements, many health care organizations have limited options to resolve these compliance issues.

TelNet-Rx Remote Solution provides our clients an affordable option to meet compliance requirements and improve patient safety by having a Pharmacist available to review all medication orders 24/7.

TelNet-Rx Additional Services:

Pharmacy Management Support

TelNet-Rx provides solutions to our clients to meet standards set forth by accreditation bodies such as Board of Pharmacy, Joint Commission, DNV, AOA, and CMS that are cost-effective, reference based, with a primary focus in improving patient safety.

Pharmacy Staffing Support

TelNet-Rx is committed to providing our clients with competent pharmacists who have had extensive experience in the field. We also provide clinical services, such as medication dosing, monitoring, pharmacokinetics, clinical interventions, as well as drug information on demand for the medical staff.

TelNet-Rx offers a variety of Pharmacy project support which includes preparation for Accreditation Survey, Medication Error Reduction Plan (MERP), 340B Optimization/Compliance, Technology Implementation, Inventory Reduction and Cost Control Analysis.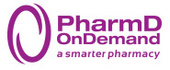 Booth #11518
PharmD on Demand

PharmD on Demand is an entrepreneurial hospital pharmacy management services company offering tailored solutions to improve patient care and increase operational efficiencies. We leverage the latest technology, innovative management processes, and the advantages of a virtual business model to bring high quality management and patient care to hospitals nationally. The following services are available on a customized basis for any facility throughout the nation.

Complete pharmacy management
Pharmacy staffing
Tailored remote pharmacy order entry

PharmD on Demand is an entrepreneurial company that brings innovative technology, business processes, and management skills to hospital pharmacies through a unique mindset and business model. Our organization is passionate about driving the quality of patient care up and the cost of pharmacy down. Our business model leverages the advantages of a mostly virtual company to recruit highly experienced pharmacists and pharmacy techs nationally. Whether we are providing turn-key pharmacy management services including inventory, staffing and management services, 24/7 remote medication order management or after hours remoter order entry or any combination we tailor each contract to fit the needs, budgets, and performance metrics of each hospital or ownership group.

Management
Hiring an outsource company that functions essentially the same as your internal pharmacy will provide you little advantage strategically or tactically. Our customized approach and innovative business model will provide you a competive advantage in the market.

Staffing and Management
PharmD on Demand provides staffing and management of a pharmacy while the hospital maintains ownership of inventory and responsibility for capital equipment, facilities and IT.

Remote Order Management
PharmD on Demand is a leader in developing remote order entry (ROE) as a powerful management tool for Directors of Pharmacy. Innovative DOPs use our service to reduce line item costs associated with reviewing, clarifying, and entering medication orders 25% to 40%, increase patient care time of staff pharmacists 10% to 30%. As part of our service, we offer our clients 24/7 backup at significantly less cost than prn staffing.
pharmdD on demand and pharmacy management with Remote Order Entry. hospital pharmacy management services and pharmacy management, Pharmacy staffing Tailored remote pharmacy order entry pharmacy management services. pharmacy inventory, staffing and management services, 24/7 remote medication order management or after hours remoter order entry. PharmD, Pharmacy management, Remote order entry, pharmacy

Booth #11520
PipelineRx

PipelineRx delivers cognitive medication management services focused on clinical telepharmacy to acute care hospitals. With an over 90% acceptance rate of its clinical recommendations by hospital care providers, clients can be sure that medication safety, patient safety and client satisfaction are PipelineRx's primary focus.

PipelineRx telepharmacy services help hospitals improve medication and patient safety by augmenting and extending the available in-house hospital pharmacy staff. Using a dedicated team of experienced and hospital-trained clinical telepharmacist, PipelineRx reviews all medication orders for all patients regardless of the patient history or medication complexity. By providing medication order review, drug verification, and on-demand telepharmacy, PipelineRx enables hospitals to achieve cost-effective and high quality round-the-clock pharmacy coverage by supplementing their staff during peak hours, holidays, vacations and emergencies during day, night, and weekend shifts.

PipelineRx is licensed by State Boards of Pharmacy, supported by the Joint Commission and the Institute for Safe Medication Practices (ISMP). By leveraging PipelineRx's clinical telepharmacy services helps its hospital clients conform with the Joint Commission National Standards (MM.8.10 and MM.4.10), and support the ISMP by reducing the occurrence of medication errors.

PipelineRx is unique in creating a cognitive clinical service based on quality, trust and value via the following benefits:

Reduce costs, improve coverage (across all shifts) and increase quality without compromises
Putting the emphasis on patient and medication safety
Helping eliminate the gap in patient safety between day and night/weekend shifts
Creating personal and trusted relationship between PipelineRx's dedicated CTP team and care providers to the benefit of the patient and client hospital
Enabling care providers to access CTPs with specialized skills that may not be available in their local areas regardless of time of day or day of week
Helping improve the client hospital brand by improving clinical outcomes and patient safety and reduce re-admittance rates
Helping client hospitals navigate and implement regulatory guidelines and mandates

CONTACT US:
PipelineRx's clinical telepharmacy services are presently enabling acute care hospitals to improve and streamline pharmacy operations across all shifts. Schedule an in-depth consultation today to learn how PipelineRx can benefit your organization.
pipeline healthcare and telepharmacy, telepharmacy solutions services. hospital or retail pharmacies and pipeline rx. reduction in medical errors optimizes workflow off site prescription processing pharmacy remote order entry

Booth #11173
PRN- Systems Connect

Through the use of secure technology PRN-Systems Connect, LLC provides remote pharmacy services to inpatient and out-patient hospital pharmacy departments.

SERVICES:

Remote order entry
Review of medication orders
Video verification of medication orders
Clinical consults, monitoring, and pharmacokinetic dosing
Drug Information Resource

BENEFITS:

Reduce pharmacy costs
Joint Commission medication management standards
HIPAA Complaint
Increase the quality of patient care
Extend your pharmacy hour to 24 hours
Reduce your back-log of medication orders
Enhance the work flow of your pharmacy department
Get additional help for on-site pharmacists during peak hours as well as when you are short staffed
More efficient use of your on-site pharmacy and nursing staff
Expand services without the difficulty associated with recruiting, hiring, and training additional pharmacists in times of a pharmacist shortage
prn systems connect telepharmacy after hours processing drug systems order entry