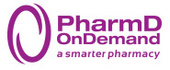 Booth #11518
PharmD on Demand

Remote Pharmacy Services

PharmD on Demand is a leader in providing remote pharmacy services (RPS). Remote pharmacy services provide a modern and practical solution for facilities that do not have a 24-hour pharmacy or the resources to hire additional staff. Our customized services cater to hospital pharmacies after hours, during peak hours, or even during unforeseen staff circumstances.

Our remote pharmacy service reduces line item costs associated with reviewing, clarifying, and entering medication orders up to 40 percent. Onsite pharmacists are able to be more clinically involved in the hospital and increase their time spent on direct patient care up to 30 percent. As part of our service, we offer our clients 24/7 backup at significantly less cost than hiring additional staff or increasing pharmacy hours.

Our highly trained pharmacists will provide order verification, order entry, medication-error prevention and clinical responsibilities in a stable work environment, using a secure VPN connection to access your pharmacy order entry system. Our pharmacists are also available by phone to your hospital staff for any questions or concerns. We strive to provide the best level of service and to make all processes seamless. The benefits of our remote pharmacy service:

Cost effective option to 24-hour pharmacy
Guaranteed and seamless coverage
Decreased cost per order reviewed
Resolve issues and answer questions for hospital staff
Improved patient care and quality by onsite pharmacists
Fewer medication errors
Hospital staff satisfaction
Compliant with The Joint Commission's standards, HIPAA regulations and state licensure requirements
pharmdD on demand and pharmacy management with Remote Order Entry. hospital pharmacy management services and pharmacy management, Pharmacy staffing Tailored remote pharmacy order entry pharmacy management services. pharmacy inventory, staffing and management services, 24/7 remote medication order management or after hours remoter order entry. PharmD, Pharmacy management, Remote order entry, pharmacy
Booth #11527
TelNet-RX

Telnet-Rx Remote Solutions is a pharmacy remote medication order verification service that provides a cost-effective option to facilities that are unable to operate a 24-hour pharmacy.

Remote Pharmacy Solutions:

Provide 24 Hour Tele-Pharmacy Services

Continuation of Patient Care
Reduce staffing costs
Supported by Joint Commission
Compliance with CDPH and CMS
Improve Effectiveness of Automation, eMAR, and CPOE Technology
Reduction in Medication Errors

Pharmacy Management:

Management Support
Regulatory Compliance
Performance Improvement
Pharmaceutical Inventory Control
Clinical Program Development
Residency Program Implementation

Pharmacy Staffing:

Complete Relief, Temporary, and Permanent Staffing
Pharmacist and Pharmacy Technicians
Support Hospitals, Retail, Long Term, and Rehabilitation Facilities
Diverse background and Clinically Competent

Pharmacy Consultation:

Medication Error Reduction Plan (MERP)
Joint Commission, AOA, and DNV Surveys
Pharmaceutical Inventory Reduction and Control
Technology Implementation Support

Booth #11525
Remote Order Entry Service

Cardinal Health Remote Order Entry Service was created to improve quality, operational efficiency and patient care. Our hospital-trained clinical pharmacists provide 24/7 order review and medication consultation from our nationwide licensed pharmacy centers.

Also known as the Rxe-sourceSM service, we can help you achieve 24/7 pharmacy coverage at your facility – and improve medication safety for your patients through an affordable, practical alternative for supplemental peak-hour coverage or for staffing the third shift. We provide remote medication order entry and review – anytime of the day or night – by highly trained pharmacists, who are fully licensed and state board approved. Pharmacist coverage by hospital complies with each state's specific regulatory licensure requirements and individual licensure details are provided for each client hospital.

Benefits of our Remote Order Entry service

Enables 24/7 pharmacy coverage
Supplements your staff during peak hours of high demand
Complies with The Joint Commission's Medication Management Standards and National Patient Safety Goals on prospective pharmacist order review and hand-off communication
Increases nursing satisfaction and improves employee retention
Improves drug turnaround times
Automates prioritization of STAT orders
Enables eMAR technology
Helps offset burden of overtime labor
Complies with regulatory and state licensure requirements
Guarantees coverage on holidays, sick days and vacations
More cost effective than hiring additional staff and using contract agencies

How can we help?

We provide service both during peak demand hours and when the pharmacy is typically closed. Please contact us today to learn how our industry-leading experts can help your hospital.

Booth #11526
TeleCameron®

The Next Wave of Healthcare Technology

Bringing qualified, experienced pharmacists to your patients and customers doesn't have to be a time- and labor-intensive process. Cameron & Company, Inc.® is pleased to announce TeleCameron®, their telepharmacy service.

A virtual pharmacist solution, TeleCameron®, offers an online connection to a qualified pharmacist, whenever you need one. Via a secured network, your virtual pharmacist will connect directly with your team to review, accept and fill prescriptions. At any time, a nurse or nationally certified pharmacy technician can connect to the virtual pharmacist.

More than 4,000 hospitals are lacking 24-hour pharmacist coverage. With TeleCameron®, all hospitals can have full coverage, 24/7. Cameron and Company, Inc.® will provide you with a clinical pharmacist who, due to travel or other restrictions, cannot work at your location - but can provide the expertise and service you need!

Our Mission

At TeleCameron® our mission is to enable healthcare facilities to improve patient care. We do this by providing on-site pharmacists and/or virtual pharmacists that allow hospitals to deliver pharmacy services, 24/7/365.

There are more than 4,000 hospitals in the USA that do not have 24/7 pharmacy services in their pharmacy departments. By augmenting existing pharmacy staff, we help to ensure patient well-being and safe delivery of medication, all day, every day.

And in the process, we create jobs for pharmacists!

Expanding Your Pharmacy Capabilities

In today's economy, increasing productivity and decreasing cost are constant demands. But in a healthcare role, how can you decrease costs while maintaining patient care?

Take the Next Step
To learn more about how TeleCameron® can impact your pharmacy,
click on the link below to visit our website today.
cameron and company and telepharmacy. telepharmacy with hospital recruiters remote order entry. cameron and company decrease costs, constant demands patient care improving patient care. on-site pharmacists and/or virtual pharmacists pharmacy services 24/7/365. www.telecameron.com virtual pharmacist solution
Booth #11520
PipelineRx

PipelineRx delivers cognitive medication management services focused on clinical telepharmacy to acute care hospitals. With an over 90% acceptance rate of its clinical recommendations by hospital care providers, clients can be sure that medication safety, patient safety and client satisfaction are PipelineRx's primary focus.

PipelineRx telepharmacy services help hospitals improve medication and patient safety by augmenting and extending the available in-house hospital pharmacy staff. Using a dedicated team of experienced and hospital-trained clinical telepharmacist, PipelineRx reviews all medication orders for all patients regardless of the patient history or medication complexity. By providing medication order review, drug verification, and on-demand telepharmacy, PipelineRx enables hospitals to achieve cost-effective and high quality round-the-clock pharmacy coverage by supplementing their staff during peak hours, holidays, vacations and emergencies during day, night, and weekend shifts.

PipelineRx is licensed by State Boards of Pharmacy, supported by the Joint Commission and the Institute for Safe Medication Practices (ISMP). By leveraging PipelineRx's clinical telepharmacy services helps its hospital clients conform with the Joint Commission National Standards (MM.8.10 and MM.4.10), and support the ISMP by reducing the occurrence of medication errors.

PipelineRx is unique in creating a cognitive clinical service based on quality, trust and value via the following benefits:

Reduce costs, improve coverage (across all shifts) and increase quality without compromises
Putting the emphasis on patient and medication safety
Helping eliminate the gap in patient safety between day and night/weekend shifts
Creating personal and trusted relationship between PipelineRx's dedicated CTP team and care providers to the benefit of the patient and client hospital
Enabling care providers to access CTPs with specialized skills that may not be available in their local areas regardless of time of day or day of week
Helping improve the client hospital brand by improving clinical outcomes and patient safety and reduce re-admittance rates
Helping client hospitals navigate and implement regulatory guidelines and mandates

CONTACT US:
PipelineRx's clinical telepharmacy services are presently enabling acute care hospitals to improve and streamline pharmacy operations across all shifts. Schedule an in-depth consultation today to learn how PipelineRx can benefit your organization.
pipeline healthcare and telepharmacy, telepharmacy solutions services. hospital or retail pharmacies and pipeline rx. reduction in medical errors optimizes workflow off site prescription processing pharmacy remote order entry
Booth #11528
Rx RemoteSolutions

Delivering patient safety and lower readmissions on demand!

When you leverage the tools, team and technology of CPS, drug cost savings and patient safety improve even after normal business hours or after your patients leave the hospital. We have developed pharmacy solutions to help ensure that you and the patient are covered, to help decrease the workload of your staff and to help reduce readmissions no matter the hour.

Our Telepharmacy Solutions include:

Rx-Partner:
It's a common challenge. Sometimes, there is simply not enough pharmacy staff to serve patients, such as after department hours, during peak hours and when clinical rounding occurs. With Rx-Partner, you get our flexible Remote Order Entry solution and our labor augmentation service, which means you can still provide the best pharmacy practices and patient safety possible. Rx-Partner provides off-site pharmacy solutions for hospitals and health care facilities. It's a safe, cost-effective solution that meets the Joint Commission and CMS Standards, HIPAA regulations and state licensing requirements.

Post Acute Chart Review:
Our pharmacists perform a detailed review of the medical record prior to patient admission. Our clinical pharmacists will identify potential interventions and will contact the admitting physician to recommend any medication changes. The entire process is HIPPA compliant and happens within a few hours

Rx-Transitions:
mprove outcomes and lower penalties with CPS' Rx-Transitions program. It provides a robust pharmacy solution that seamlessly integrates with your current care management processes. As a result, our clients have seen more than a 30% reduction of readmissions in targeted populations

See what CPS Telepharmacy solutions can do for you!