Booth #8460
Pharmacy Automation Supplies

Pharmacy Automation Supplies (PAS) is an industry leading manufacturer and distributor of pharmacy supplies & packaging dedicated to supporting the entire vertical market of pharmacy with all the consumables used in their operations. Our mission is to help pharmacies save time, and increase profits, efficiency, and productivity. Over the past 100+ years our reputation for quality and dedication to competitive pricing that has helped transform us from a small printing company to one of the must relied upon suppliers in the entire industry for:

Pharmacy Labels – Our thousands of formats can be customized to help brand your pharmacy with many of the most popular designs also available in stock formats for smaller releases at long run pricing. Formats include:

Laser Mated Sheets for use in Lexmark, HP, Kyocera, & all laser printers which offer the convenience of the "all-in-one" form preferred by many retail pharmacies.
Direct Thermal Labels for Zebra, Cognitive, Datamax, & more can be used to help improve pharmacy workflow at high volume locations and specialty locations like LTC, Hospital, Infusion, and more.
Thermal labels for Vial filling robots eliminate the role of 3rd parties, brokers, and middlemen (like the robot companies themselves) who re-sell these labels with a markup.
Perforated patient monograph/consultation forms that can be customized to provide a professional looking patient consultation printout and used in combination with thermal labels.
Long Term Care labels with re-order pull tabs or on piggyback material increases pharmacy flexibility/ options and are frequently used with blister cards
Specialty labels of all shapes and sizes can be customized for specialty application including IV's, Syringes, "Flag Labels", Refrigerated prescriptions, Unit of use items, and more.
Thermal transfer labels meet all Class A packaging standards

Paper Prescription Bags:

8 different sizes provide flexibility to accommodate everything from small vials to large items like nebulizers
Custom printing on runs as short as 12,000 allows all pharmacies the opportunity to promote their location with printing consistent with the other branding in use
Complementary freight on orders of 51,000 or more, mix & match, provides an additional discounts for bulk purchasing
Pharmacy Automation Supplies is one of the only manufacturers in the industry that uses exclusively 35# bleached clay coat gloss paper which is preferred in pharmacy.

Blister Cards:

30, 31, and 32 day heat seal cards provide unit does solutions for all volumes and levels of automation.
32 day unit dose cold seal cards provide the flexibility for all locations who prefer an alternative to purchasing heat seal presses.
Multi-Dose cards allow pharmacists to deliver an entire week's worth of medication in a single card organized by med-pass.

Thermal Ribbons for all thermal transfer printers known to be used in pharmacy
Plastic T-Shirt bags which offer a cost effective solution to large paper bags and can be purchased in both stock and custom options.
Authentic Lexmark Printer Supplies including both toners & imaging units for all printers ranging from T620 to Brand new MS811 are available for immediate release with FREE freight!

Contact one of our pharmacy support specialists today to learn how our solutions can support your operations AND help you save money in an increasingly competitive marketplace.
prescription supplies including custom pharmacy laser printer labels custom printed pharmacy RX bags pharmacy thermal labels plus new and remanufactured pharmacy printer toner cartridges refills other pharmacy printer consumables Pharmacy Automation Supplies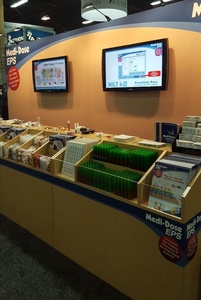 Booth #8876
Medi-Dose

The Medi-Dose® Group, known for its innovative solid and liquid oral unit dose packaging systems, has always had deep roots---family roots. This is not surprising since Medi-Dose began as a small family business. Medi-Dose was founded in 1971 when Milton Braverman, a former pharmaceutical company Territory Manager, formed his own company.

While developing Medi-Dose, we were often asked for other products. "Hey... why don't you have... ?" "Yo, I need... Can you get it for me?" So, we started EPS®, Inc. We were asked about liquid packaging to complement our solid oral systems. So, we developed TampAlerT®. We were asked about IV preparation. So we developed a line of IV additive disposable accessories. Filters? Yes! Tapes & Labels? Done! Trays, totes and bins? You got it! Bags? Absolutely! And that is how the EPS product line grew to what it is today.

Medication packaged and dispensed in syringes, ampules, tubing, suppositories and odd shaped bottles often pose unique labeling challenges for pharmacists and nurses. Conventionally shaped labels often prove inadequate for adhering to irregular shapes. Additionally, the same vital labeling that's placed on the medication being dispensed needs to be recorded on the original medication bottle or package as well as the patient record.

MILT® Makes It Easy!
Medi-Dose Information labeling Technology

MILT® the dynamic new unit dose labeling software for the Medi-Dose® and EPS LiquidDose® packaging systems, offers innovative bar coding, increased security and enhanced medication identification awareness - all for a surprisingly affordable price. Using advanced technology, MILT® by Medi-Dose® makes it easy to achieve optimum accurate, protection and performance for all your solid and liquid unit dose syringe and ampule labeling needs.
Pharmacy Prescription Label Printers, Thermal Printers, Laser Printing, Printing Supplies

Booth #5306
MTS Medication Technologies

As pharmacy workflow systems and verification processes improve, so does the need for barcode labeling, ensuring that the right medication is packaged and delivered to the right facility and patient. MTS Medication Technologies® printing systems are designed specifically with the long-term care pharmacy's unique needs in mind.

Our reliable and easy-to-use Windows-based software supports multiple styles of packaging used in long-term care pharmacy. The software's unique MVP (multi-view printing) feature allows simultaneous viewing and printing of up to three labels or foils to streamline the packaging process.

License Plate Labeling System: This license plate labeling system is perfect for the long-term care pharmacy that requires barcode scannable labels in multiple label formats. Whether you need horizontal license plate labels for standard punch cards, vertical license plate labels for unit dose boxes, special labels for syringes, refrigeration, compounds, etc. --this system gives you the flexibility to create it all.

Unit Dose Foil Labeling System: This unit dose foil labeling system produces high quality barcode scannable label sheets quickly and efficiently. It is the only unit dose foil labeling printing system developed specifically for pharmacy operations, and produces up to 18 sheets per minute.

PillVue™ Color Labeling System: The first full-color pill image and labeling system created specifically for pre-pack. PillVue ™ provides a turnkey, all-in-one solution to create pill image labels for faster, more accurate medication verifications.

Label Applicators: Table Top and Conveyor label applicator systems are designed for the long-term care pharmacy using pre-pack automation, providing increased speed to semi-automated filling.

MTS Medication Technologies®, an Omnicell® company, is an international manufacturer of medication adherence packaging systems and automated packaging equipment serving pharmacies in the long-term care, assisted living, and correctional facility markets. MTS solutions enhance the overall quality of care by reducing administration errors while improving clinical outcomes.
MTS MED LOCKER MEDLOCKER ltc Long term care nursing homes long term care facilities medication error reduction security systems long term care assisted living hospital patient safety Med Distribution Station Companies Providers Decentralized Medication Distribution Cabinets Lockers Nursing Stations narcotic drawers locking med stations automated medication storage lock-boxes management nursing unit safety medication errors accountability reports keyless
Booth #8461
McKesson Pharmacy Systems

Rx Labels, Forms, and Supplies

McKesson Printing Services is your single source for high quality printed products and supplies for the pharmacy industry. With more than 30 years experience and dedication to our pharmacy customers, we enable you to create a personalized, professional image with high quality printed products essential to pharmacy operations.

McKesson Printing Services offers a wide range of products, with experience and customer service that is unmatched in our industry. We focus entirely on the needs of your pharmacy and the printing services you require.

Customer service and satisfaction are at the core of McKesson's companywide shared principles. We can even overnight the many products you require when time is critical. Our investment in people and technology ensures that you can offer your customers the best in printing quality. McKesson Printing Services will satisfy your printing needs in today's dynamic pharmacy environment.

Printing Services We Offer:

Full Page Laser Rx Labels - Our most popular standard label styles. In addition to these items, we also produce custom Rx labels. For a more professional image, consider custom labels. Your label order will be shipped approximately six weeks after the order is placed, and you have approved the proof of your new artwork. In case of an emergency, we always stock blank labels for your convenience.

Laser Rx Labels (LL Series™) - The LL Series™ of label styles are for use with Pharmaserv®. These labels have peel-off tabs for printing caution messages associated with the dispensed drug. The tabs can be used for drug information or any additional information that may be useful for your pharmacy. The actual text message from your drug file is printed on the tabs to eliminate the use of separate caution labels.

Piggyback Rx Labels - Piggyback, pressure-sensitive, self-adhesive labels provide a duplicate label. These labels are designed for filling prescriptions for Long Term Care Facilities. They allow for easy refill ordering by the facility with two labels in one. Information printed on the top label is automatically duplicated to a second, separate label. Rounded corner labels are featured for easy dispensing and a permanent adhesive is used to adhere the label to the vial. All vertical slits are moveable and can be positioned as desired. These are just a few of the many styles we offer. Select one of ours, or send us your label to duplicate.

Direct Thermal Rx Labels - Direct Thermal Labels provide a quick, dependable way to improve the workflow process in your pharmacy.

Fast and easy to use
High-quality print
Reduce hardware maintenance
Improved turn-around
Improved customer satisfaction

License Plates, Back Tags & Bag Labels

EnterpriseRx™ Monograph Receipt - In addition to these stock items, we also produce custom Monograph Receipts and PILs with your store's logo for a more professional look.

Accounts Receivable Forms and Envelopes

Long Term Care Forms - Dot Matrix Forms & Laser Forms

Supplies

Toners
Back-up Tapes
POS Register Tape
Prescription/Receipt Pads

Prescription Bags

Stock Rx Bags
Custom Square Bottom Bags
Custom Rx Bags

Label Art and Design - McKesson Printing Services has a fully equipped Graphics Department. We can duplicate your current label, or design a new layout for you. This page shows some of the many logos and art clips you can choose from as part of your label design.
McKesson Printing Services Rx Labels, Forms, and Supplies on pharmacy labels and supplies. Full Page Laser Rx Labels, Laser Rx Labels (LL Series™) with Piggyback Rx Labels. Direct Thermal Rx Labels and License Plates, Back Tags & Bag Labels also Accounts Receivable Forms and Envelopes Prescription Bags and Label Art and Design on pharmacy supplies bags and labels.

Booth #8875
Medical Packaging

Medical Packaging Inc. (MPI) is one of the leading manufacturers of unit-dose packaging solutions with over 35+ years of experience in providing packaging solutions to acute care and long-term care pharmacies, repackaging and specialty markets. MPI continually stays abreast of the ever-changing packaging needs of the pharmacist and develops the solutions that provide the latest technology and compliance to drug packaging guidelines. Additionally, MPI's unit-dose packaging solutions are uniquely positioned to assist the long-term care (LTC) and extended care (EC) pharmacy in transitioning to the shorter cycle dispensing model recently mandated by the Centers for Medicare and Medicaid Services (CMS). This mandate, which was announced on November 22, 2010, will require the dispensing of medication in cycles of seven (7) days or less instead of the thirty (30) day model traditionally used in these care settings and will support nation-wide efforts to reduce medication waste.

MPI's suite of pharmacy packaging solutions include state-of-the-art, affordable packaging systems to meet the bar coding, unit dose, and packaging needs of every type of pharmacy. MPI offers packaging solutions for oral solids, liquids, overwrapping and labeling systems, which are available either on an individual basis, a multi-product basis, or as a total solution dependent on the specific packaging requirements of each pharmacy. Coupled with MPI's exclusive Pak-EDGE™ UD Barcode Labeling Software with access to First DataBank™ drug image and database library, MPI's pharmacy packaging solutions assist pharmacies with Bedside Point of Care (BPOC) and Bar Coded Medication Administration (BCMA) initiatives.

MPI offers three (3) types of packaging solutions for oral solids. The Auto-Print™ II, which packages sixty (60) packages per minute (ppm), and the Auto-Print™ Express 90, which packages ninety (90) packages per minute (ppm), can produce either a 2" standard or 1.5" custom unit dose package, and the Auto-Print™ Punch Cut Machine (PCM), which produces a 2.5" unit dose package, packages thirty (30) packages per minute (ppm) and features a punched hole in the upper half of the package for use in conjunction with centralized, robotic systems. MPI's oral solid packaging systems can also be customized to accommodate canister technology available with fully automated packaging solutions utilizing canister technology.

MPI's offers the Fluidose™ Series 5 packaging solution for oral liquids providing the capability to package bulk liquid medication to unit dose. This high quality, affordable bar coding packaging system for oral liquids allows a pharmacy to increase their packaging speed to up to fifteen (15) packages per minute (ppm) and is offered with two (2) filling options, either the Syringe Pump or optional Baxa® pump to provide a single, bar coded liquid unit dose package to the bedside. An automatic low fluid detection feature is built into the machine controls which pauses liquid packaging when fluid level reaches a level preset by the pharmacy technician. Built-in purge feature cancels the bar code label and automatically clears the system for the next packaging job.

For your ancillary packaging needs, MPI offers two (2) types of overwrapping systems, the Auto-Print™ Bagging System and the Auto-Print™ Max Bagger for Robot Ready packaging, and the Pharmacy Accessory Label Printer labeling system to provide any pharmacy with the appropriate packaging or labeling solution for their parenteral medications.

For more information about the products and services provided by Medical Packaging Inc., please visit the links provided below.
Pharmacy Prescription Label Printers, Thermal Printers, Laser Printing, Printing Supplies
SecurColor™ On-Demand Inkjet Label Printers from Epson

Epson's SecurColor prints color labels on-demand and allows warnings to be printed directly on labels which speeds the process and reduces human error. It is ideal for printing pharmacy compounding labels for unit dose, syringe and IV bag labeling. Read More...

Spring 2013 Edition | Community - Specialty - LTC

Labeling Solutions by Medi-Dose, Inc. / EPS, Inc.

Improve patient safety and team communication with bar coding & labeling solutions designed by healthcare professionals for healthcare professionals. Read More...

Winter 2012 Edition | Health System - Infusion

Labeling Solutions by Medi-Dose, Inc. / EPS, Inc.

Improve patient safety and team communication with bar coding & labeling solutions designed by healthcare professionals for healthcare professionals. Read More...

Winter 2011 Edition | Health System - Infusion

MILT® 3.0 Label Software by Medi-Dose, Inc. / EPS, Inc.

MILT 3.0 software will improve patient safety and decrease medication errors with barcoding and formatting flexibility. Read More...

Summer 2011 Edition | Health System - Infusion
Epson

Epson SecurColor. The best color-on-demand printer for pharmacy compounding. Get all the advantages of color-on-demand labels and reduce your costs with Epson's SecurColor™ printer. It prints vibrant, smudge-proof labels on qualified media from 1.2" to 4.4" wide. And its Automatic Nozzle Checking technology ensures color accuracy at all times. Read More...

Cognitive TPG

From hospitals and clinics to laboratories and pharmacies, CognitiveTPG thermal label printers provide reliable, economical, and easy-to-use solutions. Read More...

Epson SecurColor.

The best color on-demand printer for pharmacy compounding.
Medi-Dose, Inc

The Medi-Dose® Group, known for its innovative solid and liquid oral unit dose packaging systems, has always had deep roots---family roots. This is not surprising since Medi-Dose began as a small family business. Medi-Dose was founded in 1971 when Milton Braverman, a former pharmaceutical company Territory Manager, formed his own company.

Medical Packaging, Inc.

The Pharmacy Accessory Label Printer (PALP) is a bar coding packaging solution for ampules, vials and syringes. This solution can decrease packaging costs, increase operational efficiency and reduce or eliminate medication errors

November 06, 2012


Medi-Dose®, Inc. / EPS®, Inc. Announces New ORAL LiquiDose® Butterfly Labels

To minimize the potential for error when dispensing ORAL medication, EPS has released 6 new LiquiDose Butterfly Labels... all with a distinct ORAL imprint. Available in White, Blue, Red, Green, Yellow and Orange, all EPS LiquiDose Butterfly labels can be printed with a regular laser printer.
California Dental Practice Act - 2013
Provided by: My Dental Continuing Education & OSHA Training
This NEW online course, California Dental Practice Act - 2013, meets the standards of the Dental Board of California (DBC) for a comprehensive review of the California Dental Practice Act (CDPA) for license renewal. All licensed dental professionals are mandated by the California Code of Regulation 1600 to receive instruction before each license re...
CMS Discharge Planning Standards and the Revised Planning Worksheet
Provided by: Inquisit
Hospitals will forfeit $280 million dollars effective October 1, 2012 because of a regulation penalizing hospitals for having a higher than average readmission rate. There are about 278 hospitals that will receive the maximum penalty and 2,211 additional hospitals that receive a lower penalty. What is your hospital doing to reduce unnecessary readm...
MTM for Patients with Diabetes
Provided by: St Marys Hospital
Overview / Abstract In this multi-layered, knowledge/application/practice-based continuing pharmacy education activity the University of Connecticut and Drug Topics will develop pharmacist competence in MTMand Motivational Interviewing. The activity is designed to expand from knowledge-based activities to practice-based skills by properly scaffo...
Introduction to Precepting
Provided by: ANA Nurse CE
Overview: The preceptor is an experienced staff member who welcomes, orients, and accepts new employees into an organization. This course introduces the goals of a preceptor program, details the preceptors responsibilities, and explores the challenges inherent in precepting. Objectives: • Identify the preceptor's responsibilities in fulfil...
Anti-Kickback Statute, Stark and False Claims: Understanding the Government's Weapons
Provided by: Inquisit
During the audio conference, you will learn pragmatic and operationally-sensitive solutions regarding the Anti-Kickback Statute, Stark Law and False Claims with all the changes occurring with Healthcare Reform and Accountable Care Organizations....
Physician Assistant PANCE/PANRE Exam Review - 3 Day / 2013
Provided by: CME Resources
This program has been reviewed and is approved for a maximum of 27.5 hours of AAPA Category 1 (pre-approved) CME Credit by the Physician Assistant Review Panel. Physician assistants should claim only those hours actually spent participating in the CME activity. This program was planned in accordance with AAPA's CME standards for live program a...
True Colors: Enhancing the Preceptor-Student Relationship Through Personality Typing (by Rxperts / Texas Pharmacy Association)
Provided by: Texas Pharmacy Association / Rxpert Center for Excellence (RxCE)
Description: This program is designed to enhance the relationships between students and preceptors through the understanding of different personality types. Utilizing the information obtained from this session will allow preceptors to optimize the experiential experience for students to assure a productive and harmonious relationship. Goals: At ...
California Dental CE Renewal for CEs OSHA
Provided by: St Marys Hospital
...
Targeted Temperature Management for ICP Control and Prevention of Ischemia/Reperfusion Injuries
Provided by: Inquisit
The presentation will describe the mechanisms through which temperature can affect ischemic injury and intracranial pressure, and how temperature interacts with other key factors such as brain perfusion and oxygenation. Various potential indications for fever management (controlled normothermia) will be reviewed, as well as some situations where mi...
Failure to Thrive in Older Adults
Provided by: American Society of Consultant Pharmacists
At the completion of this case, the learner will be able to: 1. Define and evaluate factors that may contribute to failure to thrive (FTT). 2. Examine various methods to assess failure to thrive. 3. Identify common comorbid conditions associated with FTT. 4. Review current treatment options for FTT patients. 5. Discuss goals o...
Your Destination for CME - Las Vegas
Provided by: Primary Issuesâ"¢ by Primary Care Network
You all have them, you can't avoid them, and you may not even like them. Studies have shown that up to 15% of patient encounters are perceived as difficult by the clinician that is treating them. As a primary care clinician, you are most often the entryway to patients for their healthcare, even the most "difficultâ€