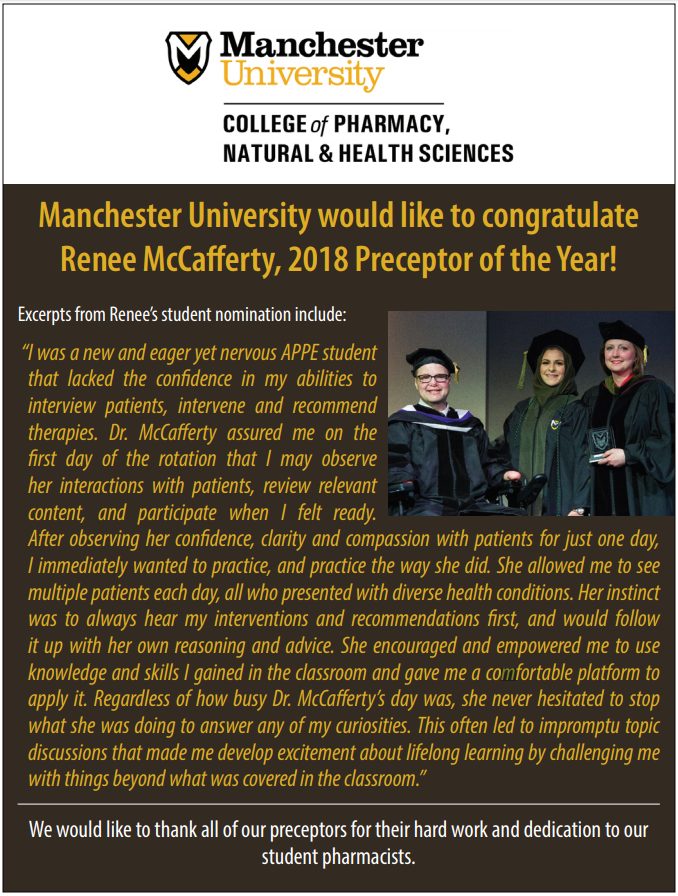 Excerpts from Renee's student nomination include:
"I was a new and eager yet nervous APPE student that lacked the confidence in my abilities to interview patients, intervene and recommend therapies. Dr. McCafferty assured me on the first day of the rotation that I may observe her interactions with patients, review relevant content, and participate when I felt ready. After observing her confidence, clarity and compassion with patients for just one day, I immediately wanted to practice, and practice the way she did. She allowed me to see multiple patients each day, all who presented with diverse health conditions. Her instinct was to always hear my interventions and recommendations first and would follow it up with her own reasoning and advice. She encouraged and empowered me to use the knowledge and skills I gained in the classroom and gave me a comfortable platform to apply it. Regardless of how busy Dr. McCafferty's day was, she never hesitated to stop what she was doing to answer any of my curiosities. This often led to impromptu topic discussions that made me develop excitement about lifelong learning by challenging me with things beyond what was covered in the classroom."
We would like to thank all of our preceptors for their hard work and dedication to our The following colleges and organizations would like to student pharmacists.

---