Pharmacy preceptors are the catalysts who transform competent pharmacy students into compassionate and committed professionals. Roosevelt University's College of Pharmacy greatly values the time and dedication of all our pharmacy preceptors and the critical role they play in the education of pharmacy students. After going through many nominations, I am honored to recognize our two Preceptor of the Year recipients.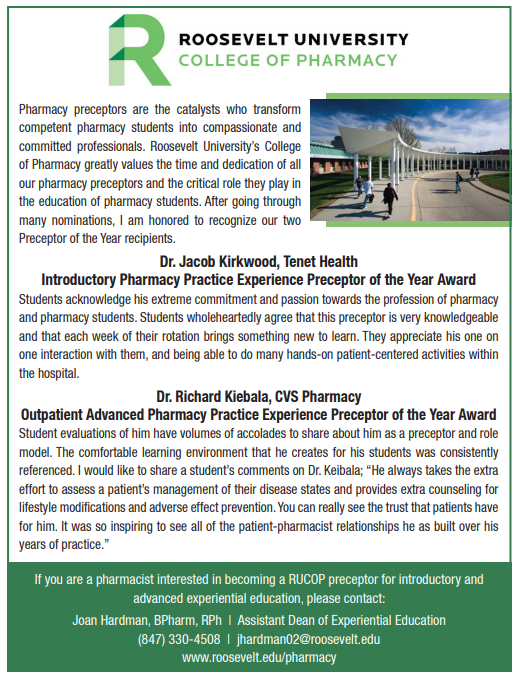 Dr. Jacob Kirkwood, Tenet Health
Introductory Pharmacy Practice Experience Preceptor of the Year Award
Students acknowledge his extreme commitment and passion towards the profession of pharmacy and pharmacy students. Students wholeheartedly agree that this preceptor is very knowledgeable and that each week of their rotation brings something new to learn. They appreciate his one on one interaction with them, and being able to do many hands-on patient-centered activities within the hospital.
Dr. Richard Kiebala, CVS Pharmacy
Outpatient Advanced Pharmacy Practice Experience Preceptor of the Year Award
Student evaluations of him have volumes of accolades to share about him as a preceptor and role model. The comfortable learning environment that he creates for his students was consistently referenced. I would like to share a student's comments on Dr. Keibala; "He always takes the extra effort to assess a patient's management of their disease states and provides extra counseling for lifestyle modifications and adverse effect prevention. You can really see the trust that patients have for him. It was so inspiring to see all of the patient-pharmacist relationships he as built over his years of practice."

---
If you are a pharmacist interested in becoming a RUCOP preceptor for introductory and advanced experiential education, please contact:
Joan Hardman, BPharm, RPh | Assistant Dean of Experiential Education (847) 330-4508 | jhardman02@roosevelt.edu www.roosevelt.edu/pharmacy

---