Congratulations IPPE II Preceptor of the Year, Kaitlyn Prininski!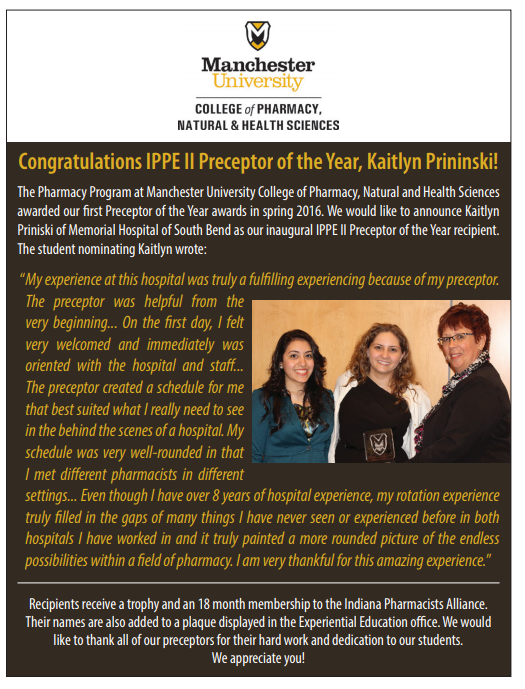 The Pharmacy Program at Manchester University College of Pharmacy, Natural and Health Sciences awarded our first Preceptor of the Year awards in spring 2016. We would like to announce Kaitlyn Priniski of Memorial Hospital of South Bend as our inaugural IPPE II Preceptor of the Year recipient. The student nominating Kaitlyn wrote:
"My experience at this hospital was truly a fulfilling experiencing because of my preceptor. The preceptor was helpful from the very beginning... On the first day, I felt very welcomed and immediately was oriented with the hospital and staff... The preceptor created a schedule for me that best suited what I really need to see in the behind the scenes of a hospital. My schedule was very well-rounded in that I met different pharmacists in different settings... Even though I have over 8 years of hospital experience, my rotation experience truly filled in the gaps of many things I have never seen or experienced before in both hospitals I have worked in and it truly painted a more rounded picture of the endless possibilities within a field of pharmacy. I am very thankful for this amazing experience."

---
Recipients receive a trophy and an 18 month membership to the Indiana Pharmacists Alliance. Their names are also added to a plaque displayed in the Experiential Education office. We would like to thank all of our preceptors for their hard work and dedication to our students. We appreciate you!

---