The Mission of Roosevelt College of Pharmacy is to embrace a patient centered approach to learning that will produce graduates who are Competent, Committed and Compassionate. The Office of Experiential Education greatly values the time and dedication of all of our preceptors who play a critical role in providing quality pharmacy experiences for our students. Each year our students submit their nominations for Introductory Pharmacy Practice Experience (IPPE), and Advanced Pharmacy Practice Experience (APPE) Preceptor of the year. The 2016 recipients received their award this year in May, at the Class of 2016 Awards Banquet.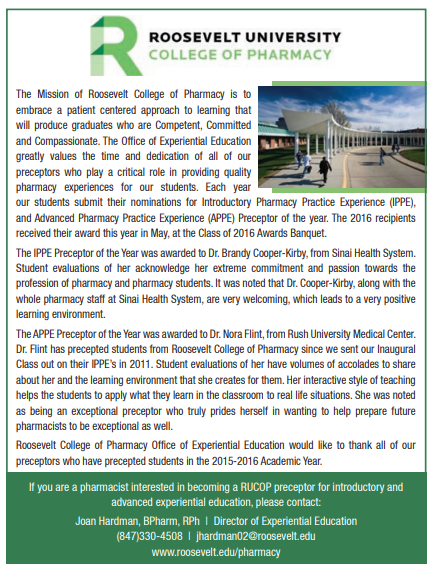 The IPPE Preceptor of the Year was awarded to Dr. Brandy Cooper-Kirby, from Sinai Health System. Student evaluations of her acknowledge her extreme commitment and passion towards the profession of pharmacy and pharmacy students. It was noted that Dr. Cooper-Kirby, along with the whole pharmacy staff at Sinai Health System, are very welcoming, which leads to a very positive learning environment.
The APPE Preceptor of the Year was awarded to Dr. Nora Flint, from Rush University Medical Center. Dr. Flint has precepted students from Roosevelt College of Pharmacy since we sent our Inaugural Class out on their IPPE's in 2011. Student evaluations of her have volumes of accolades to share about her and the learning environment that she creates for them. Her interactive style of teaching helps the students to apply what they learn in the classroom to real life situations. She was noted as being an exceptional preceptor who truly prides herself in wanting to help prepare future pharmacists to be exceptional as well.

---
Roosevelt College of Pharmacy Office of Experiential Education would like to thank all of our preceptors who have precepted students in the 2015-2016 Academic Year.
If you are a pharmacist interested in becoming a RUCOP preceptor for introductory and advanced experiential education, please contact: Joan Hardman, BPharm, RPh | Director of Experiential Education (847)330-4508 | jhardman02@roosevelt.edu www.roosevelt.edu/pharmacy

---